Water is believed by crystal healers to be able to hold a memory of an energy pattern of some object placed within it. The following practices are based upon this concept. Take a crystal and grind it into a very fine powder, place in a bowl of spring water for several hours, transfer the water into a dark glass jar and refrigerate. Or, one may place the ground stone in a bowl of tap water and expose it to sunlight for several hours; this creates an essence of sun energy/universal energy. Next withdraw the water from the bowl and place it into a jar with 50% brandy; this becomes a mother tincture. In turn place a few drops of the mother tincture into another small bottle of 50% brandy. It is then ready to be consumed by drops as a medicinal, or placed in bath water, in steam inhalation, etc. Both solutions of regular spring water or the essence water can be used similarly.
The particular crystal that is selected for therapy may be chosen due not only to its lattice structure, but also due to color. The color of the gem is contingent upon the crystal formation and its atomic structure which in turn, bends the rays of sunlight. Some colors depend upon the basic mineral while others are colored by impurities. When all colors are absorbed in the stone it is then black; when all light is reflected, the stone white.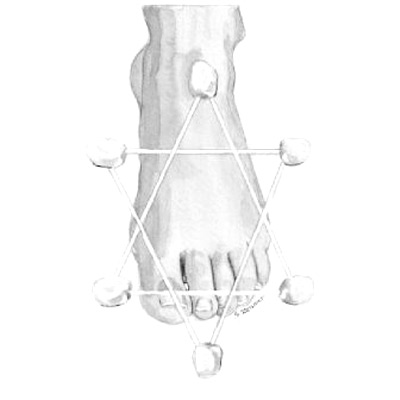 Figure 36. crystals in form of Solomon's seal
Different colors are believed, by crystal healers, to affect different aspects of health. Each color represents a specific wavelength of light and may be referred to as "vibration" of energy, of creativity, of balance, etc. Different colors are said to affect the body in different ways. Examples: orange is supposed to influence physical rigidity, restricted feelings, digestive disorders, lack of focus, lack of vitality, unable to let go of past memories, etc.; green is equated with abnormal growths, sense of claustrophobia, being trapped, unfulfilled, restricted, domi-nated, a need to be in control or to be controlled, invasive illness, etc.
Problems occurred in the past due to use of ground gems, as not all gems are safe. Minerals have been used since ancient times as source of colored pigments. Their colors do not fade due to sunlight but may change with extensive time due to oxidation. Some of these colored pigments are toxic and are no longer used. Red was from mercuric oxide and arsenic oxide— toxic. Orange is also from toxic minerals, yellow from arsenic and sulfur, etc. Another practice in crystal healing involves chakra balancing. The Indian Ayurveda system of healing believes that there is a network of subtle energy channels that run through the body. This network said to be composed of a central channel along the spine and which is made up of seven centers of energy called chakras.
The seven chakras are proclaimed to be linked to the seven colors of the rainbow, with each chakra being of one of the seven colors. The chakra system is also believed to be influenced by a set of associated symbols, use of sound, color, shape, animal and god forms, as well as the senses.
The goal of chakra crystal balancing and healing is to empower each chakra to its optimal function as well as to the system as a whole. The most fundamental chakra balancing act is Hindu-type mediation, but the crystal healer supplements that act with use of his crystals. Choice of crystals for healing is determined by the problems the individual may have, or it may be just to maintain health. Once the chakra felt to be most associated with a health situation is determined, then it is necessary to select more specifically the optimum crystal needed to place over the chakra as therapy. Selection of a color, and mineral type of stone to match the chakra, is done by visualization, intuition (divine inspiration), applied kinesiology (divination by muscle testing), color meditation by visualization, or by dowsing with a pendulum.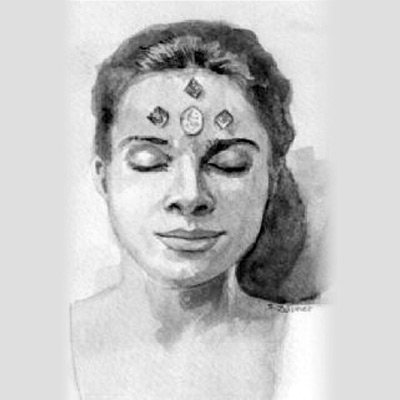 Figure 37. Crystals over forehead chakra)
References

↑

1
Levi, Jerome Meyer, "Wii'ipay: The Living Rocks—Ethnographic Notes on Crystal Magic Among some California Yumans." Journal of California Anthropology 5 (1): (1978), p. 42. Reported in Harner, Michael, The Way of the Shaman, Harper Collins Publishers, New York, NY, (1990), p. 109.

↑

2
Harner, Michael, The Way of the Shaman, HarperCollins Publishers, New York, NY, (1990), p. 112.

↑

3
Lilly, Simon, The Complete Illustrated Guide to Crystal Healing, Element Books Inc., Boston, MA, (2000), p. 184.

↑

4
Ibid., pp. 184-191.

↑

5
Harner, op. cit. p. 109.

↑

6
Ibid., p. 136.

↑

7
Ibid., pp. 108-112.

↑

8
Ibid., pp. 108-112.

↑

9
Mason, Henry M. , The Seven Secrets of Crystal Talismans, Llewellyn Worldwide, St. Paul, MN, (2008), p. 11.

↑

10
Gerber, Richard, Vibrational Medicine the Number One Hand Book Subtle Energy Therapies, Bear and Company, One Park Street, Rochester, Ver – mont, (2001), p. 325.

↑

11
Mason, op. cit., pp. 12, 13.

↑

12
Ibid., p. 13.

↑

13
Lilly, op. cit., p. 34

↑

14
Ibid., pp 45-47.

↑

15
Ibid., pp. 52, 53.