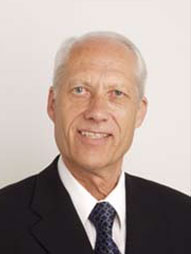 Dr. Jochen Hawlitschek was born in 1941 in Germany. When he was ten years old, his parents migrated to Brazil where he attended the present Instituto Adventista de Ensino close to São Paulo. Wishing to become a missionary, he studied medicine at the Royal and Pontifical University of San Francisco Xavier in Sucre, Bolivia. As a forth year medical student, he won a contest to be chief of the Histology Laboratory, a position that he held through the conclusion of his studies. He graduated in 1968 as "Doctor in Medicine and Surgery," receiving a gold medal for obtaining the highest academic achievement in the medical school.
After working for several years as a mission doctor at the Adventist Hospital of Chulumani, Dr. Hawlitschek received a scholarship from the German government to specialize in Surgery at the Justus Liebig University in Giessen, Germany. After seven years of specialized training, he was called to assist in the development of the Medical School of Montemorelos University in Mexico. There he taught Histology, Anatomy, Surgery, Traumatology, and Urology. Besides surgery, his great passion was to teach and to learn together with the students. One of the features that evidenced his creativity was the fact that he wrote a laboratory handbook for Histology in two versions, for right-handed and for left-handed students. He advanced in academic rank until becoming a full Professor and Dean of the Medical School. The systematic reading of nearly all the written works of Ellen G. White, since he was in secondary school, profoundly influenced his approach to medical practice and teaching.
During the 13 years at Montemorelos, he undertook a Master in Public Health from the Loma Linda University, California, graduating with the President's Award for highest academic achievement. He also became lifetime member of the Kappa Delta Omega Honor Society of Public Health in the USA, for outstanding achievements in study and practice.
In 1990, the Euro-Africa Division of the Seventh-day Adventist church called him to serve as the Health Ministries director of the Division, located in Berne, Switzerland, a position he held for 16 years until his retirement. Besides all responsibilities as Director of the Health Department, he was also the regional director for Europe of the International Commission for the Prevention of Alcoholism and Drug Dependency (ICPA) and representative of this organization to the United Nations. During the last five years, he was also the coordinator of the Global Mission program of the Division. In this capacity, he experienced once again that the best approach to human needs is to follow Christ's method to combine physical and spiritual healing. Now, after retirement, Dr. Hawlitschek continues to teach at the Montemorelos University's extension programs and also assists training young people in the art of integrating health promotion with gospel outreach.
Dr. Hawlitschek is married and has 3 adult children. He may be contacted by e-mail at jhawlitschek@bluewin.ch , or reached by phone at +41 797 055 873.